I can't wait till my Wacom comes and that has me in a drawing mood, I have an array of stiles. I don't know if I'll put any of my Abstracts up though. I have some of my characters as long as 10 years now, and am in the processes of doing some changes to them. And others aren't as old.
Lets see to start off with I'll do my finished sculptures time laps
Tafari is a wolf based creature of mine that I needed a 3D reference of so that is in some sence the "sculpture that started it all" *bricked*
The one below this line tends to be people's favorit because it's a WOW Druid in cat form
Those are the only time laps up at the moment
This one is finished I just haven't finished the time lap dew to moiving. It was a wedding gift for my cousin and her husband, we moved shortly after that. Her Fave animal is the Horse and his is a Koala, I never did find out if the like it or not though.
These two are still WIPs
Another character of mine Meline Nightroad She is partners (and I don't mean the romantic kind) with Tafari, though she thinks of him more like a father there's a lot behind that and I don't really have the time to explain. I plan to make her top out of fabric which is why she doesn't have one yet >.>
Where we were living there was a group that did a diffrent animal for art things and last year 2014 was the year of the coyote, I didn't get done before we had to move. There are still things I want to to it before I bake it. The inspiration behind him is from an old NW Native American legend that I read back in high school where Coyote took the water from the Frog People who weren't sharing with others. Coyote then put the water where people could get to it. Or at least that's what I remember.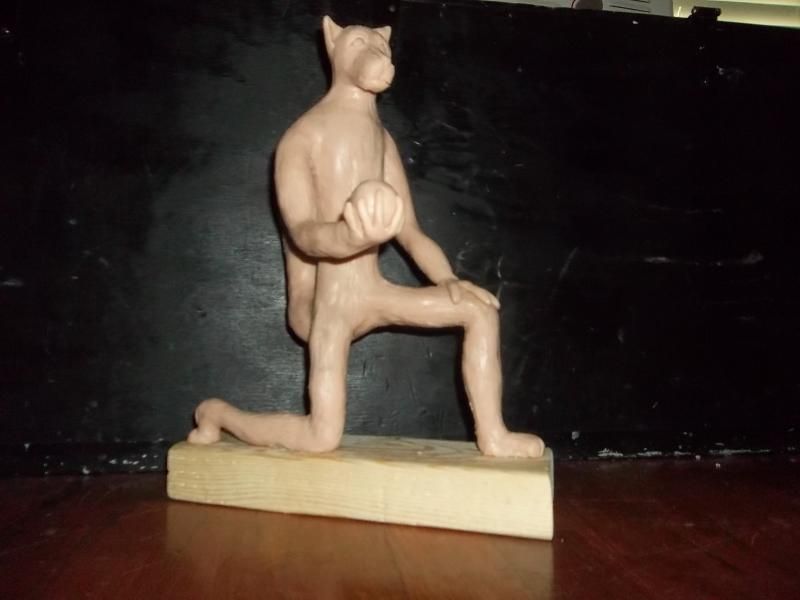 [DOUBLEPOST=1428267192,1428265469][/DOUBLEPOST]I'll put some of my drawing up once I figure out which ones to put up
[DOUBLEPOST=1428278021][/DOUBLEPOST]The only current drawings I have scanned in and that are more resent are a few turnarounds that I'm working on. Firestar in the swim ware which is currently my avatar and this
All are my characters but they don't normally interact together.
Anything else I have is really rather old