Frontier Psychiatrist
Gallery Volunteer
Sep 4, 2009
4,792
1,406
Personal Text

"No man can eat fifty Faberge eggs!"
It's getting late here, but I wanted to post some pictures of something cool I was recently lent.
As I mention on occasion, I take the name "Captain Video" from a mid-century TV program called
Captain Video and His Video Rangers
. This was a show produced by the DuMont Television Network, and if you're not familiar with them, it's probably because they went out of business in 1956. What I absolutely love about their programs is that every single one of them
looks
like the network was about to go out of business, something I think that was most visible in
Captain Video
. Set hundreds of years in the future, and following a man sworn to guard the Solar System from evil, the whole affair was shot against cardboard backdrops in a studio next to a department store, from which it borrowed props.
Aimed at kids, though reportedly popular with adults as well,
Captain Video
produced a fair amount of tie-in merchandise, which (from what I've heard) was often of a quality superior to what the actual actors on the actual show had to work with, because you cannot possibly appreciate how broke the network was. Anyway, one of the pieces of merchandise was the Captain Video Space Game, and as it turns out one of the regular community producers from the public access TV station I work at had a copy, which he kindly lent to me. I've been documenting it extensively through photographs. These are my findings.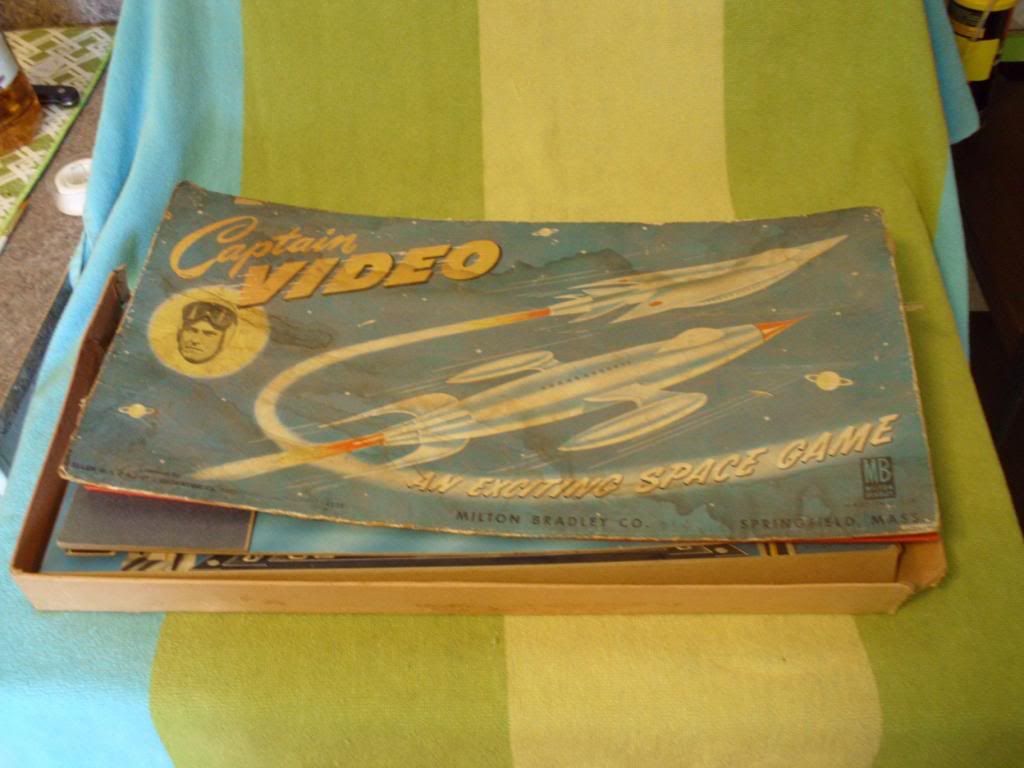 Presenting the game on a beach towel laid across my washing machine was definitely a sound curatorial choice.
As we can see, this is
AN EXCITING SPACE GAME!
As we can also see, this particular copy of the game is not in stellar shape. The game's exact title ("Captain Video Space Game") is drawn from the instructions inside the lid. This is a Milton Bradley product, manufactured in Springfield, Mass. (As an aside, as a child in the 1990s, my parents took me to see the abandoned lot where the Milton Bradley factory had been before the fire. Heady stuff!)
I haven't yet pinned down the game's publication date. The man in the yellow inset (closeup below) is Al Hodge, the second actor to play Captain Video himself (1950-55, taking over from Richard Coogan, 1949-50). Hodge doesn't smile in many of his early photographs in the role, and I read somewhere that this is because he had bad teeth, something he had fixed sometime in the mid-early '50s, allowing him to give a healthy smile to the camera for later photo shoots. Nevertheless, he looks bitterly unhappy to be a part of this game.
The logo is the best thing I have for pinning down the year. From what I know, the TV show itself always used a simple logo where the letters were composed out of jaggy lightning bolts. This rather fancier design does appear, however, on a series of
Fawcett comic books
from 1951, so I'm going to guess (at present) that the game is from around then.
Finally (for this evening) I give you the board: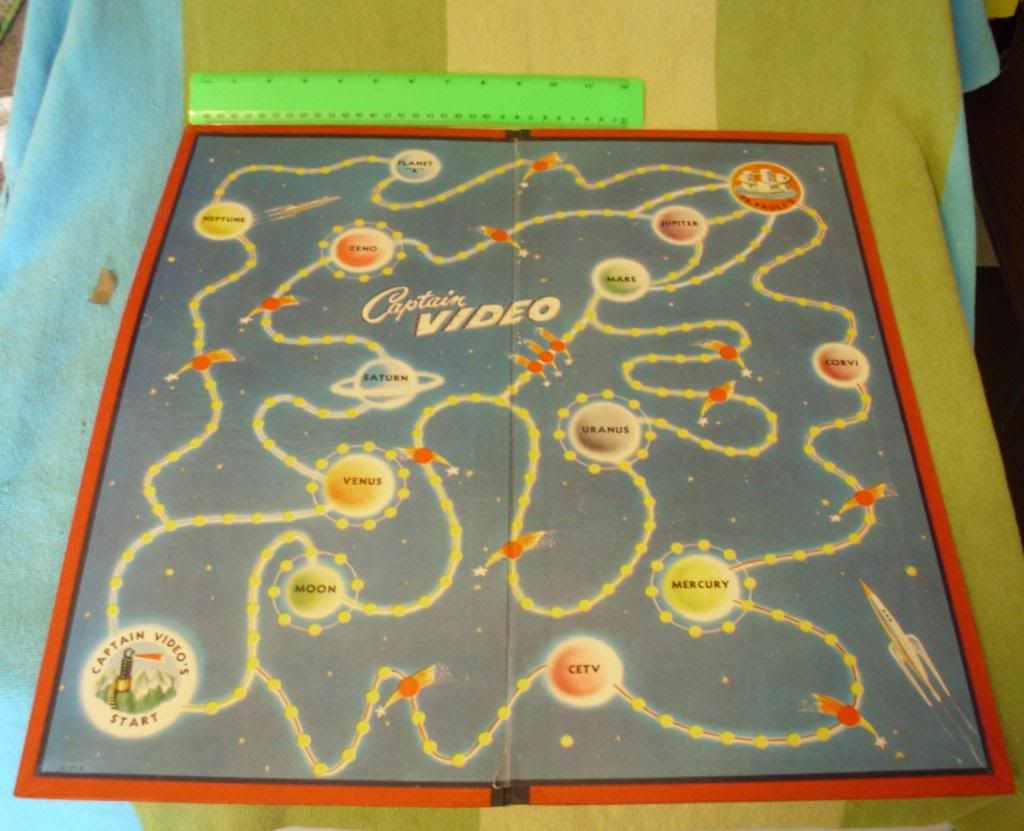 I'm not going to try to get into gameplay right now, but the key takeaway here is that the people making this had an ignorance of the Solar System that was nothing less than willful. In addition to including eight of the nine then-recognized planets (where is the love for Pluto?), the board also includes the moon and Cetv, Corvi, Planet "X" and Zeno. These heavenly bodies are arranged buffet-style.
So many of the series' episodes have been lost that there may be no way of ever finding out what these last four were supposed to be. The writers seemed to be fond of inventing planets. I have hazy memories of reading one synopsis where the Captain goes to Black Planet (phrased just as such, with no article before the name). I also know that Black Planet is now the name of an African-American dating site. I enjoy knowing these things.
In the bottom left is the starting point, CAPTAIN VIDEO'S, from which players depart to DR. PAULI'S, located in the upper right. Dr. Pauli was the show's perennial bad guy. For some perspective, he looked like this: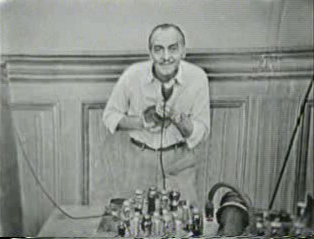 I actually took that screenshot, but I don't remember what the context for that huge board filled with vacuum tubes is. I think Dr. Pauli might trying to steal cable.
What does the rest of the game look like? How was it played?
Check back tomorrow
for more excitement!